Earlier this week seven Premier League Football Clubs announced they agreed to set up cryptocurrency wallets on online trading platform eToro. After reading this cryptocurrency news article by The Telegraph, I was pretty excited! I would assume most other cryptocurrency enthusiasts would be as well. This is another positive sign for both Bitcoin & other altcoins as another step towards mass adoption. Bitcoin adoption by soccer teams sounded like great news until I re-read the article and dug a little deeper.
I became much less excited with what I found.
In eToro's official press release, Iqbal V. Gandham (UK Managing Director at eToro) states:
"As a global multi-asset platform where you can purchase the world's biggest cryptoassets alongside more traditional investments, we are excited to be partnering with so many Premier League clubs and make history by being the first company ever to pay for a Premier League partnership in bitcoin…. As a partner of these seven Premier League clubs, eToro will gain global exposure through an extensive range of marketing opportunities including matchday LED boards, player access, tickets and digital rights."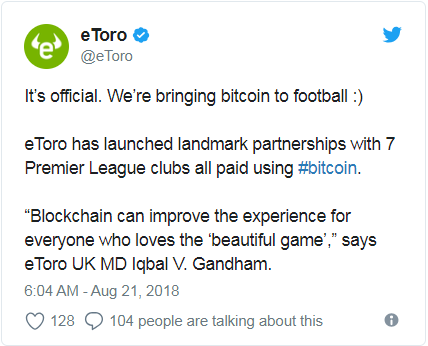 Representatives from the seven clubs all announced that they were either "excited" or "pleased" to welcome eToro as a "partner". That shouldn't come as a surprise, I think most of us would be "excited" or "pleased" to have eToro pay us to be a partner.
How Will eToro Promote Bitcoin Adoption By Soccer Teams?
eToro is an online trading platform still in Beta. The online exchange landscape is becoming increasingly competitive each day. I never heard of the company until I read the article but commend them for paying the clubs in Bitcoin to increase use and awareness. However, it seems as though this is purely a marketing ploy by the company.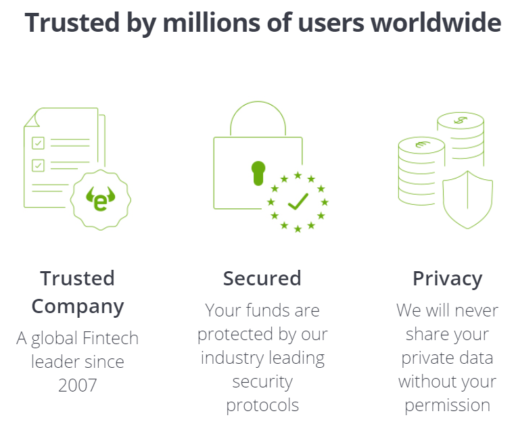 Partnering with Premier League clubs for marketing is normal business for a firm targeting soccer fans. This is not unique to Bitcoin or blockchain. The only difference in this instance is that eToro is paying in Bitcoin vs fiat.
Cryptocurrency news headlines stating that the clubs are trialing these types of assets is a nice way to generate buzz and good press for everyone involved. eToro can announce their unique "partnerships" and that the clubs are praised for their commitment to technology and innovation.
And there is nothing wrong with that. It is the deceptive cryptocurrency news headlines that are the issue.
Be Wary of Cryptocurrency News Headlines
The headlines around this story can and will cause people to think that the clubs are adopting Bitcoin. Readers will this think that the clubs decided to use Bitcoin on their own or that they are developing some type of blockchain network. In reality this was a good business and marketing opportunity for the clubs and eToro.
The truth is that the soccer clubs are trialing cryptocurrency but it is unclear what that trail consists of besides receiving payment in Bitcoin and opening digital wallets on the eToro exchange.
The truth is that the clubs were probably incentivized by eToro. I would be shocked if the clubs didn't demand more money to be paid in BTC due to its' volatility. This would be a good business move on the clubs end and still beneficial for eToro.
The truth is that the clubs probably have no need to use cryptocurrencies at the moment. Is there enough of a pain point in their current payment systems that warrant a complete overhaul of their technology infrastructure? I'm not sure but probably not. eToro claims that Bitcoin "will also help clubs tackle ticket touting and counterfeit merchandising" but I'm not too sure how Bitcoin currently solves that problem. There are other cryptos like Ravencoin that may be able to solve this issue in the future but definitely not now.
Is There Any Truth To Bitcoin Adoption By Soccer Teams?
Some.
The fact that the clubs accepted the payments in Bitcoin is definitely a step in the right direction. The buzz generated from this partnership is also beneficial as it helps spread awareness and adoption around cryptocurrencies and blockchain.
Will these seven clubs convert to fully using Bitcoin or other cryptocurrencies in the near future? Probably not.
The point here is to highlight the fact that headlines are often misleading. Although it is tedious, investors MUST pay attention to and critically analyze all the details listed in each article. It is imperative that investors pay Devil's advocate and DYOR before taking news at face value!
Be sure to sign up for our newsletter to join our community of cryptocurrency investors and let us know if you think we will see Bitcoin adoption by soccer teams!