Welcome to the Tron Cryptocurrency Review. Interested in investing in cryptocurrency? Check out our other crypto related material to get an edge!
Relevant Tron Links
What Is Tron Cryptocurrency?
Tron is a cryptocurrency which aims to decentralize the internet. Tron is trying to eliminate companies such as Facebook and Youtube to provide a way for content creators to communicate directly with their audience by using peer-to-peer technology and smart contracts.
They hope to be successful by giving content creators monetary incentives and rewards for their content. Tron would not take any fees that a normal company would which is also beneficial for these content creators.
Thus, the Tron cryptocurrency use case is much more ambitious than that of most other cryptocurrency projects. The Tron Foundation is trying to decentralize the internet by using blockchain technology and forming a decentralized content entertainment ecosystem. Quite an ambitious goal.
The Development Team Behind Tron
Tron is an open sourced project being led by founder and CEO Justin Sun.
Sun received his Master's Degree from the University of Pennsylvania. In addition to founding the Tron cryptocurrency prject, Sun is also the founder of Callme (PEIWO) APP, one of the largest voice live streaming apps in China. Sun was listed on the Forbes 30 under 30 three times from 2015 to 2017.
On Justin's LinkedIn page he is a self proclaimed "protégé of China's tycoon Jack Ma, Chairman of the Alibaba Group."
Tron's website does not go into anymore detail about the rest of the team except there are over 100 members located across the globe that "are experienced blockchain enthusiasts who were previously employed by internet giants such as Alibaba, Tencent and Baidu."
Partnerships and Other Influences
Legitimate business partnerships are always a good sign for a cryptocurrency project. Additionally, partnerships can increase visibility of the project and expand the user base of the network.
Tron is currently not partnered with a large established company. However, the project has established partnerships with the following companies: GIFTO Protocol, oBike, Baofeng, Game.com, Uplive, Peiwo APP and Matchpool.
Tron is often surrounded by rumors linking the project to a potential partnership with the Chinese giant, Alibaba. There are reasons for optimism regarding this due to Justin Sun's relationship with Alibaba CEO, Jack Ma. However, there is no partnership to date regarding the two.
Competitive Advantages and Risks of Tron
Competitors
Tron has a unique approach in achieving it's blockchain use case. Below is a list of some of the competitors in the DApp space:
Competitive Advantages of Tron
What differentiates Tron cryptocurrency? What advantages does this project possess that no other cryptocurrency does?
The biggest advantage to this project is Justin Sun. Sun has a great academic background and "checks the boxes" of what you're looking for in a founder. Although he does not have direct blockchain and cryptocurrency background, he seems to have a good business background as shown by being listed on Forbes 30 under 30 for three years.
Sun also has a deep relationship with Jack Ma which is very advantageous to Tron. Should a partnership form between the two, this would be a game changer for Tron and instantly legitimize the project in a business sense. Also, Sun does a good job of keeping TRX in the news and "hyping" the coin up which is good for the project.
Secondly, the project's blockchain use case is a differentiation. Most cryptocurrencies are competing to become the next big digital currency and fighting with fiat currencies. Instead, Tron cryptocurrency is trying to decentralize the entire internet. This is beneficial as there is less competition. If the project is successful, this will be a major accomplishment and Tron will establish itself as a key component in how we use the internet in the future.
Lastly, the unveil of Tron's Main Net is advantageous right now. Main Net will be the first chance for the project to show off it's progress and potential. If successful, the launch of Main Net should excite current TRX supporters and show a glimpse into the future of the project. The success of Main Net should provide more confidence in the team as well.
Risks of Tron
What risks are associated with Tron cryptocurrency? The largest is the blockchain use case. As mentioned earlier, Tron is trying to take on a huge project in decentralizing the web. Although achievable, it is quite ambitious and we have yet to see great progress.  There is the potential of over-promising and under-delivering in this case.
The potential of a unsuccessful release of Main Net is also a risk. This is the first chance to show off the progress made on the project. If this is a failure and the team "flops", critics will have a field day trashing the project online. It will not be a good look for the team.
Additionally, it seems like the project is counting on success through incentivizing content creators. The developers must make sure to design the user interface in such a way that it is just as easy (if not easier) for content creators (such as bloggers, musicians and artists) to upload and distribute their content as they would on sites like Youtube or Facebook. The project faces a huge risk of failure if they do not make the user interface user friendly.
Tron Network and User Trends
Tron does seem to have a lot of activity on social media, especially as of late. CryptoCompare shows a total score of over 691,000 which is very impressive. It shows there is a lot of discussion around the project online and many people are interested in the Tron cryptocurrency project. The community is also very strong on forums and blogs which is very impressive. The coin has over 2,950 Code Repository Points which is great as well.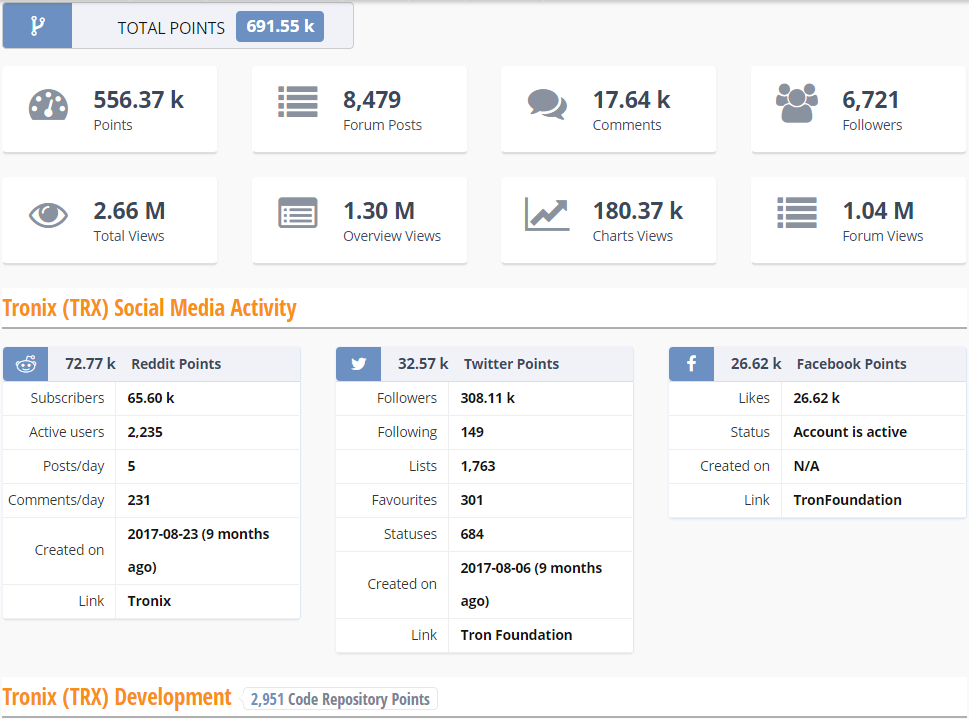 Conclusion
Tron is an unique open-sourced cryptocurrency. Instead of battling to become the leading digital currency  or best privacy coin, Tron is tackling a different problem. Tron is attempting to decentralize the internet as we know it.
This is a big competitive advantage for the project as there is no clear cut competitor in the space. The project also has some big upside due to the Founder, Justin Sun, and the release of Main Net this month.
However, the project has some room for failure as it can be "biting off more that it can chew" by taking on such a big project like decentralizing the web. There is also no guarantee content creators will use the network once it is built out.
Tron is (currently) the tenth largest cryptocurrency in terms of market cap, this is more due to the number of coins in circulation (61 billion) instead of the value the network is providing. Although this is a very unique and interesting project, there is a lot more the team needs to prove before evaluating and that starts with the release of Main Net. Overall, this is a very ambitious project with a ton of risk. The reward may be worth it though!