Welcome to the Ravencoin Cryptovurrency Review. New to this space and interested in investing in cryptocurrency? Access our other crypto related material before you dive in!
Relevant Ravencoin Links
Ravencoin's Blockchain Use Case
The whitepaper describes Ravencoin (RVN) as a "use-case focused blockchain designed to carry statements of truth about who owns what assets." Simply put, this project is an electronic way to create and transfer assets.
Ravencoin claims that Bitcoin and Ethereum were not designed specifically to facilitate ownership of "additional assets" and that the development team usually prioritizes other features. There are some inherent disadvantages about embedding assets in the Bitcoin and Ethereum blockchains.
This is why Ravencoin is different. It was specifically designed to efficiently transfer assets electronically.  Ravencoin will be adding assets, rewards, unique assets, messaging, and voting functions in phases.
Development and Management Team Behind Ravencoin
RVN is an open sourced project being led by Bruce Fenton and Tron Black.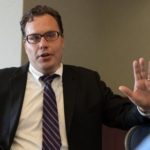 Bruce Fenton started his career at Morgan Stanley Dean Witter as a stockbroker and formed Atlantic Financial Inc. in 1994 where he now serves as the Managing Director. Fenton is also the CEO and founder of Chainstone Labs, a stealth mode start-up focused on blockchain, tokenization of securities, and decentralized asset management. Additionally, Fenton was previously the executive director of the Bitcoin Foundation.
Tron Black is a serial entrepreneur and programmer focusing on blockchain technology. Black founded CoinCPA in 2013 which acts as an accounting system for cryptocurrencies. Black also started several other successful companies.
Partnerships and Other Influences
Legitimate business partnerships are always a good sign for a cryptocurrency. Additionally, partnerships can increase visibility of the project and expand the user base of the network. Ravencoin currently does not have any established partnerships since it is a new project.
However, Ravencoin has gotten some good press since launching. RVN became known by the larger cryptocurrency community when Overstock CEO Patrick Byrne stated the company invested millions of dollars into the development of Ravencoin. Additionally, Overstock apparently purchased 60 million RVN. Although nothing has been announced yet, many are speculating of a partnership between RVNand Overstock.com or one of its' other cryptocurrency investments.
Competitive Advantages and Risks of Ravencoin
Competitors
The following are Ravencoin's main competitors:
Competitive Advantages
What differentiates RVN? What advantages does this project possess?
Ravencoin uses the X16R algorithm. In short, this algorithm is comprised of 16 different algorithms and designed to make RVN ASIC resistant. Additionally, this algorithm is  more energy efficient compared to other commonly used algorithms.
Since Ravencoin is going to be designed specifically to transfer assets, there will be commands built in to protect assets from being destroyed accidentally (an issue not solved by other cryptocurrencies).
On the network, it will be easy for any one user to issue, track and transfer assets.
RVN is currently only listed on three exchanges and cannot be purchased by most people. It is expected that the price will rise once RVN gets listed on some of the bigger exchanges. The current three exchanges are CryptoBridge, Nanex and Graviex.
Risks
One risk associated with Ravencoin is the future development of the project. Currently, RVN is on Phase 2 listed on the Roadmap. What happens if the community sours and the project does not complete all of the Phases? It is possible for the project to shut down before fully developing the Ravencoin network. This seems highly unlikely.
However, the bigger risk that is associated with the RVN project is the potential of lack of adoption. What happens if the project is fully developed but their use-case is not as strong as they thought it was? What if people don't use the network as anticipated? Since the project is still under development, we won't know for a while.
Another risk is the projects name. Bigger institutions may not decide to do business with Ravencoin because it may not sound professional enough. RVN may need to do a rebrand in the future, similar to how NEO rebranded  from Antshares in 2017.
Network and User Trends
The project doesn't seem to have a lot of activity on social media. CryptoCompare shows a total score of over 50,000 which is relatively impressive for a coin that was just launched in January. It shows there is a lot of discussion around the project online and many people are interested in the cryptocurreny. The community is also very strong on forums and blogs which is very impressive. The coin has over 1,000 Code Repository Points which is good as well.

The RVN network hashrate is also very impressive. Below is a tweet showing the statistics of the network hashrate. These are excellent numbers for a smaller coin that has not existed for a long time. The network hashrate has been increasing every month since inception and is showing no signs of slowing down. It is expected the network will continue to grow in the coming months.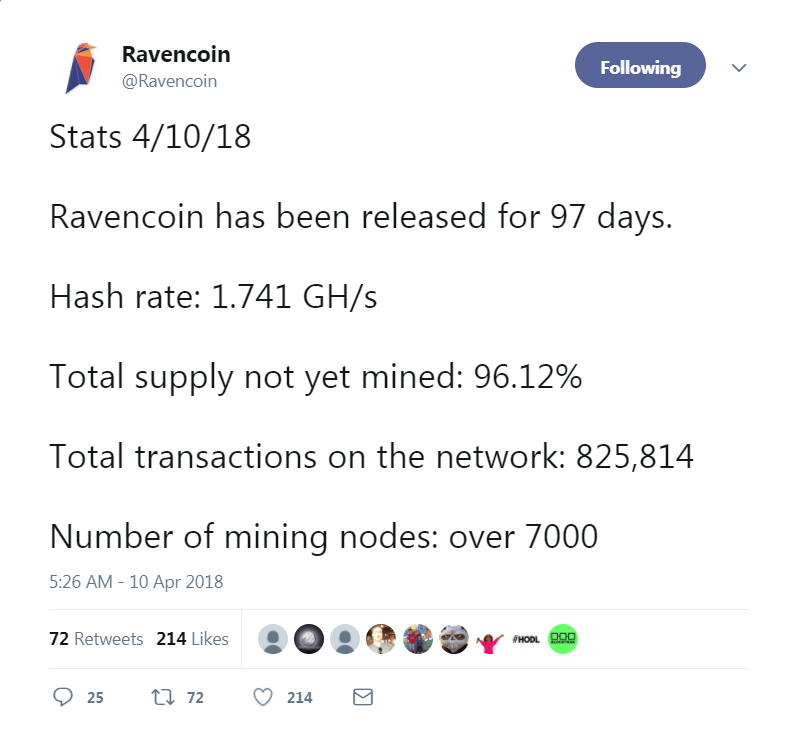 Conclusion
The Ravencoin project is a blockchain specifically designed to efficiently transfer assets electronically. Although this does not sound groundbreaking, this is an important use-case that may receive wide adoption. RVN has the potential to create and transfer traditional assets such as gold, land deeds, cars and art.  The project can also transfer other goods such as tickets to sporting events, shares of a company, liquor licenses, gift cards, and reward points.
The whitpaper claims that the "Ravencoin project can also serve as a base and starting point for projects, second layer solutions, experiments, and business ideas which might benefit from either the Bitcoin-based code base with adjustments or the native additional features added to the Ravencoin blockchain."
Overall, RVN is a very interesting project that is still in its infancy. The project was only launched five months ago and has already achieved a lot of success. RVN has received a lot of good press in the news and has built a very strong community. The blockchain network is also growing exponentially and will do so as the development continues. RVN is also only listed on three exchanges so the only ways of acquiring RVN is by signing up for one of these smaller exchanges or by mining it.
Although this is a very small coin, the network is anticipated to continue to grow giving RVN a bright future. As long as the project continues to be developed, RVN should be listed on more exchanges and establish some great partnerships. Ravencoin has its work cutout for itself but I am excited to see the evolution of this project.