Hi everyone, we hope your trading is going well! This post will be slightly different than posts in the past. I will start by reviewing what has happened in the last month and then talk about some of my longer term thinking.
Short term price action has become extremely sluggish and right now is a good point in the market cycle to be thinking long term. There is definitely opportunity for short term profit, but it will likely remain harder to find than in previous months.
August Review
Looking back over the month of August gives us a sense of how fast things have developed in the cryptocurrency markets. August began with one of the largest sell-offs of the year. The total market capitalization of all cryptocurrencies (measured by coinmarketcap.com) declined from about $275 billion to about $195 billion over the first two weeks.
As a percentage, the overall market fell by 29%. Most of this fall was precipitated by the rejection of the Bitcoin ETFs. These rejections put downward pressure on Bitcoin and as it fell towards the support at $5800 – $6000, other cryptocurrencies sold off even more. The fear was that Bitcoin would crash through its support, leading to even bigger sell-offs across the board.
Fortunately Bitcoin was able to stabilize around $6,000 and start a very slow upwards march. This upward movement was initially met with resistance at $6,500 for about a week, but as confidence grew and more people decided to buy back in, the price of Bitcoin broke through this resistance up to $7,100. Overall, this has been a very slow price change and is a testament to the declining volatility of Bitcoin.
Taking a look at the other cryptocurrencies – some of them have rebounded spectacularly since the lows two weeks ago and quite a lot of money could have been made if you were able to time the bottoms of these coins. I will not name any coins specifically because these large rebounds are mostly signs that they were extremely oversold during the sell-off, not signs of any fundamentals.
Will Bitcoin Continue to Recover?
As the Bitcoin market has continued to cool off perhaps only the long term charts are important to watch right now. The chart below is from cryptowat.ch and is a one week chart (each candlestick represents one week). We can clearly see the support line around $6,000. Assuming Bitcoin keeps moving up, the key level to watch is around $8,500. This was the high of the last small rally six to seven weeks ago.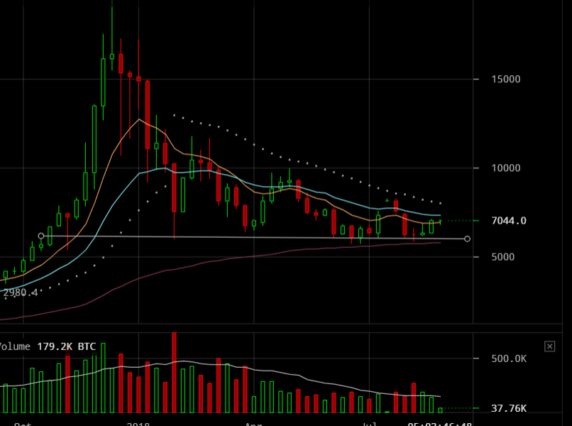 Since the top of the market last year, the medium term market highs have become lower. We saw a high of $12,000 in early 2018, then a high of $10,000 a couple months after that, then the $8,500 most recent high. If Bitcoin is able to increase above $8,500, many people will take it as a sign the next long term bull market is starting. However, I am not expecting a quick rise past this level. In my opinion, the likeliest scenario is still for continued consolidation in the $6,000 – $8,500 range.
If Bitcoin falls below the $5,800 to $6,000 support range, we should expect the bear market to continue for quite a while longer. This is certainly possible – the bear market beginning in 2014 lasted more than a year and a half. However, I am cautiously optimistic that the price will remain above $6,000. This seems to be the prevailing sentiment in the market today.
What Does This Mean for the Other Cryptocurrencies?
While most other cryptocurrencies are likely to stagnate as well, a few lesser known coins will probably come into the spotlight. Ethereum and Monero are the two that come to mind as examples of coins that gained tremendous popularity while Bitcoin consolidated a couple years ago. Ethereum was created long after the 2013 altcoin mania died down, when the market in general had given up on altcoins. It was very painful to to hold coins like Feathercoin, Peercoin, Novacoin, and Litecoin as they all fell 90% from their 2013 highs.
This is very similar to the current state of the ICO market. We had a huge boom in ICOs last year and now that most of them are down 80%+ from their 2018 highs, people are much less interested in them. Hopefully in the next six months to a year some of them begin to reach their potential. Perhaps one that does not even exist yet.
Happy hunting!