Hi traders! The last two weeks have been hectic and we hope you are doing well (or at least hanging in there!). This was a time period where you should be happy if you just broke even. In this installment we'll take a look at the market action over the last two weeks and what the short sellers have been up to.
What Does The Market Look Like?
A few days after my last post the market took another large dive. Bitcoin fell from $7,400 to $6,200. Altcoins fell much further, led by Ethereum falling from the $280 range down to close to $160 (about a 40 – 45% drop). Ethereum has done so poorly this year due to disillusionment with the ICO market in general and ICO's needing to sell Ether to pay salaries. Bitcoin dominance continues to increase and peaked at about 57.5% a few days ago. We can see both of these medium term trends in the chart below.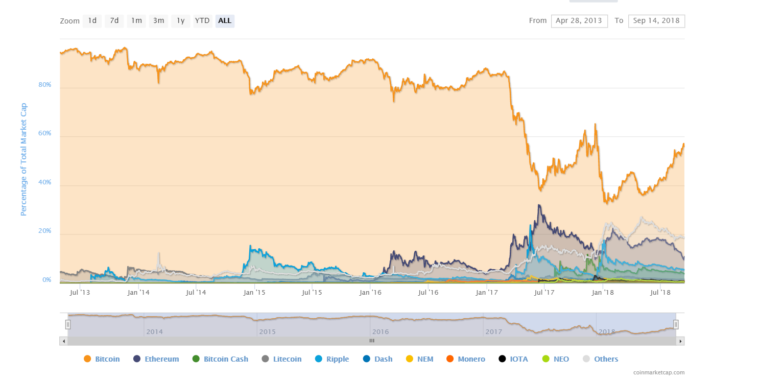 Although many altcoins fell to new yearly lows, Bitcoin managed to hold above the critical $5,800 – $6,000 range. As I mentioned two weeks ago, a fall below this price range would be very bad news for the entire cryptocurrency market. Part of the recent steep sell-offs in altcoins are due to worries that this level will not hold. For the moment the price is acting stable.
Have We Seen A Bottom?
Many long-time Bitcoin investors and traders are being more optimistic that we have seen the bottom. This could very well be the case. However, there is another Bitcoin ETF proposal that will be decided on September 30th. The market seems to care a lot less about Bitcoin ETF denials than it did a couple months ago – perhaps this will be the test. I am expecting more consolidation over the next two weeks in the $6,000 to $7,000 range, but anything can happen.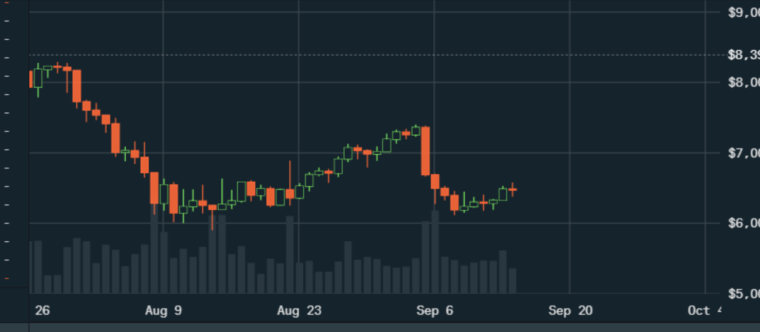 Some other news that may have contributed to the recent decline was the suspension of the Bitcoin Tracker One and Ether Tracker One Exchange Traded Notes. This suspension is only until September 20th so any market effects are likely overblown.
Understanding Short Selling
Another metric we should watch from time to time as traders is the short interest. Short interest measures how many people are currently short selling the market. The chart below shows the total number of Bitcoin borrowed by short sellers. This number currently stands around 36,000 which is historically high. Short sellers need to pay interest to borrow Bitcoin to short sell. This adds a time element to trading – short sellers are hoping to profit from a quick price decline so they can close their positions and stop paying interest. A stagnant market or a market trending up is bad news for a short seller.
If the market price of Bitcoin starts to increase rapidly short sellers will attempt to buy back in to stop their losses. Sometimes this leads to short squeezes where short sellers covering their positions cause the price to rise even more, causing more short sellers to cover, etc. When short interest is high, as it is now, the probability of a short squeeze is elevated. So while I am not expecting a large increase in the price of Bitcoin soon, I may be wrong if we have a short squeeze.

Oftentimes the short interest increases dramatically during a market crash. This is what happened two weeks ago when Bitcoin fell over $1,000 in a couple days. Also, notice the decline in short interest that accompanied the rally above $7,000. As with any data used for trading, nothing is a perfect indicator of future prices. We can make our most informed trades by combining information from many sources – the short interest is just one of these sources and may or may not be relevant depending on the prevailing market conditions.