It has been a while since my last post. About a month ago the price of bitcoin bottomed around $5,850. At that point in time the market depth charts showed an a large amount of buyers compared to sellers. When the market turned up, the two month long downtrend line beginning at the end of April was broken.
The market consolidated for a couple weeks and when enough buyers felt confident the price was not going to drop much lower. The price rapidly rose about 40% from the low $6,000's to the mid $8,000's.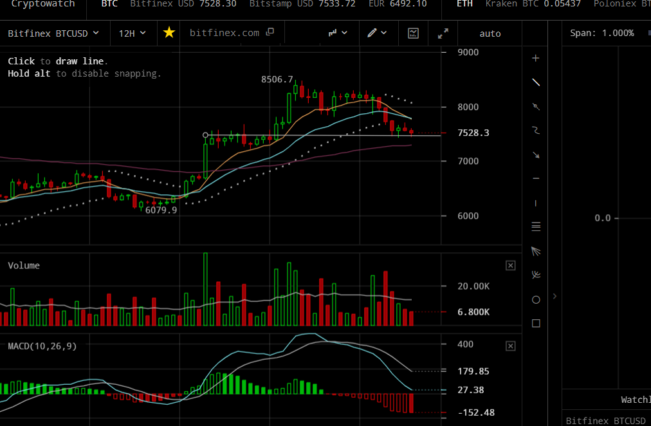 As shown in the chart, the price initially shot up to $7,500 and then consolidated for a few days before jumping again to $8,500. Some of the reason for this jump was due to hope that the Direxion bitcoin ETFs would be approved soon.
Originally the decision was supposed to occur in August, but this date has been pushed back to September. A few days ago the second attempt to get the Winklevoss ETF approved was rejected, and this is when the market broke down below $8,000.
Looking At Ethereum Price Movements
Now I want to concentrate on Ethereum because I believe the overall market trend is more visible here. Notice how we can very easily draw a downtrend line over the last few days from $470(ish) down to today's price of $410. I have not drawn the line this time – the idea is that it is extremely clear from the instant you sees the chart. This means that when the trend-line is broken it will become very obvious and cause a lot of people to jump in.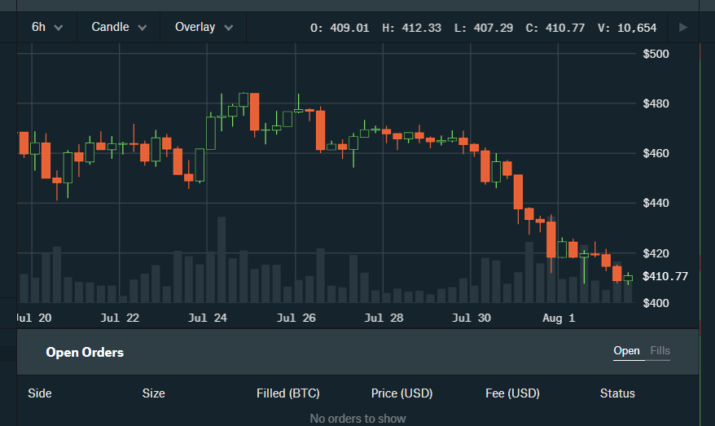 Next let's look at the 1 hour chart.

The downtrend line on the one hour chart is also very clear. At the time of this screenshot we are at a critical point. The price was unable to fall below yesterdays low of $410 and is right at the resistance line. This is a good time to accumulate with a tight stop. Having a "tight stop" simply means that you exit the position relatively quickly if it moves against you. Perhaps at $405 in this case.
Conclusion
Finally, lets take a look at the Dominance chart. This chart shows the percentage of the total market capitalization of cryptocurrency (as measured by coinmarketcap.com) that each coin holds. The orange line is bitcoin. Notice how it has been rising over the last of couple months. This makes sense as most altcoins have performed much worse than bitcoin over this timeframe. This was largely expected as hype continued to die down, but monitoring this metric can lead to great trade opportunities from time to time.