The price of cryptocurrencies has continued to increase over the last couple weeks. This is great news unless you are trying to short sell! Let's take a look at some high level cryptocurrency technical analysis examples so we can get an understanding of what's been happening in the market lately.
Taking A Look At Bitcoin
Let's take a look at the price of Bitcoin over the last month, particularly since it broke out during the second week of April. The charts we are using come from cryptowat.ch.
Over the last two weeks an uptrend pattern formed culminating in a strong rally from $9,000 to $9,800 before a pullback. Unfortunately, the pullback fell below this trendline all the way down to $8,600 and the momentum was lost. The price consolidated in the $9,000 to $9,500 range for about a week and just recently moved to retest the $9,800 high.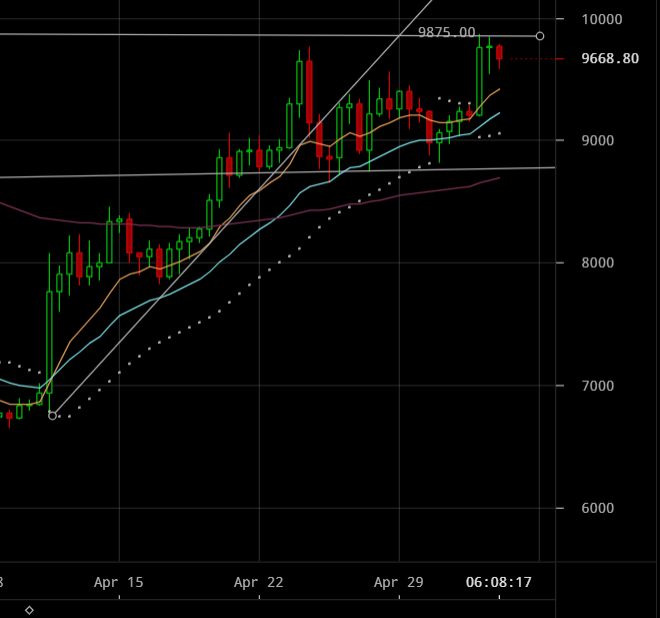 In hindsight this makes sense – $10,000 is a major psychological barrier and we can expect a lot of traders to take profits before this milestone. This happened the first time Bitcoin broke through $10,000 last year. If the price manages to convincingly break above $9,800, it should be able to go quite a bit higher. However, if Bitcoin cannot get above $9,800 I anticipate that the price will stay in a range bound between $8,800 and $9,800 – the two horizontal lines on the chart. Prices should remain choppy and unpredictable while in this range.
It's All About Momentum
While Bitcoin has stagnated over the last week, many altcoins are still rallying hard. Here is the chart of Ether over the last month. Notice how it has managed to stay above its rising trendline to almost double in price. Not bad! However, if Bitcoin is unable to move higher watch for Ether and other coins to lose their momentum as well.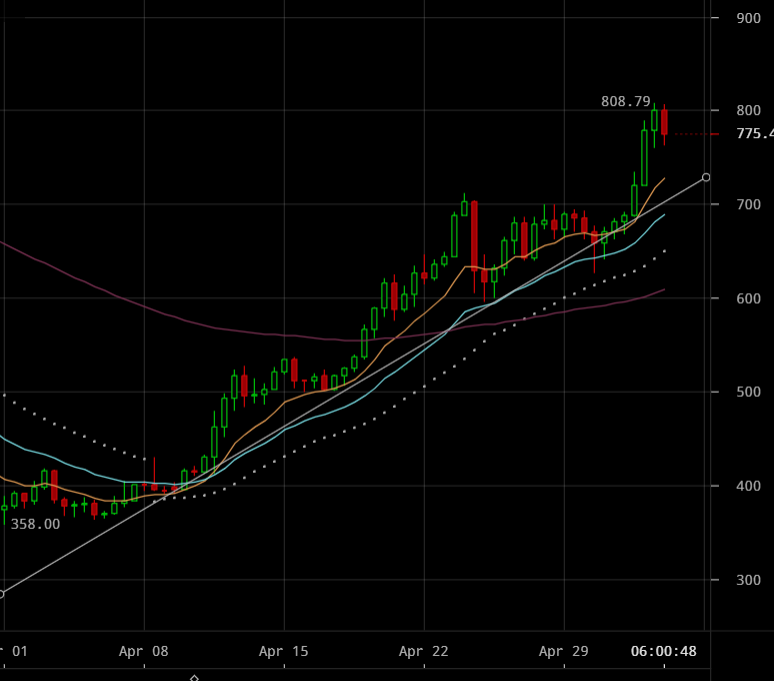 Many people are optimistic about Bitcoin, Ether, and other cryptocurrencies surpassing their December highs. While this would be fantastic, it does not appear like many new people are researching cryptocurrency now (new people who bring in new capital).
To see this, let's look at the Google trends search data for the word "Bitcoin". This tool shows the relative number of unique searches for specific words or phrases. Notice the massive spike at the end of last year when everybody was talking about cryptocurrency. Similar spikes accompanied other large price increases, particularly the two in 2013. You can play with this tool to see your favorite coins and look at different time ranges.
Google Trends And The Market Cycle
Using data from Google trends is not going to guarantee profitability. But there are a few patterns that have stood out to me over the last few years. First, the overall market cycle. Generally, the price incline back to old record highs is slow and tedious. This was the case in 2011-2012 and 2014-2016. Bitcoin peaked at $31 in the summer of 2011 and then crashed to about $2 at the end of the year. Prices began to recover in 2012 but we had to wait until early 2013 to see the $31 mark again, more than a year after the bottom of the market.

Similarly, we had to wait 1.5 to 2 years for the price of Bitcoin to recover from its 2015 lows to the $1,200 level set in 2013. These price recoveries go largely unnoticed by the public, as reflected in the Google trends data. But as soon as the price breaks an old record high the media hypes it up and people become fascinated again. The surge in news articles and interest brings more investment which causes the price to rise further. It will be interesting to see what happens if a different coin such as Ether or Litecoin were to break a new record high without Bitcoin doing the same.
There are occasions where the Google trends data can be used for short term trading as well. Whenever major news comes out we can look at Google trends to see the change in search volume. If the news is positive and the search volume spikes this usually means more people will make an investment soon. However, it usually takes people at least a week to get their money in the exchanges to buy. You can use this to your benefit.
Best of luck trading!