Welcome to the Crypto Weekly Update, where we organize all the latest developments from the previous week for your reading pleasure. The Crypto Weekly Update will be released every Monday afternoon. Think we can improve? Let us know in the comments section below!
Blockchain Hearing On Capitol Hill
Congressmen met with a variety of tech experts and scientists to understand blockchain technology and how it can be used. Congress decided to dig deeper into the technology following a cryptocurrency hearing last week with the chairmen of the SEC and CFTC.
Regulation came up but was not discussed at length. It seemed the Congressmen wanted to concentrate their time on getting a grasp of how the technology could be used to improve everyday processes. Identity protection related use cases seemed to have a fan in Rebecca Comstock (R-VA) who had her personal information compromised after a cyber attack on a government office.
"I would encourage Congress to commission a blockchain advisory group," said Aaron Wright. Aaron is a professor at Benjamin N. Cardozo School of Law. He is heavily involved in their blockchain project at the school.
Could this potentially be the next step that Congress makes in the space?
Litecoin Cash Is Born
On Sunday afternoon EST Block 1371111 was reached on the Litecoin blockchain network and Litecoin Cash was officially created. Anyone holding one Litecoin at the time of the fork is entitled to ten Litecoin Cash.
The community as a whole was suspicious of the entire thing. Charlie Lee came out and said the project was a scam and many people seem to agree. The team has come out and said that they are in no way associated with the project.
PSA: The Litecoin team and I are not forking Litecoin. Any forks that you hear about is a scam trying to confuse you to think it's related to Litecoin. Don't fall for it and definitely don't enter your private keys or seed into their website or client. Be careful out there! https://t.co/qXbiIxp5Al

— Charlie Lee [LTC] (@SatoshiLite) February 4, 2018
The new cryptocurrency will allow users with older ASICs to put their previously obsolete equipment back to use. Litecoin Cash will use SHA256 hashing algorithm which is the same algorithm that Bitcoin uses. The new coin will also use the DarkGravity V3 algorithm that Dash uses. This will allow the network to recalculate difficulty after each block.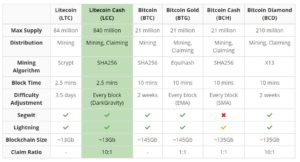 Litecoin Cash was trading close to $8 per coin earlier today. If you would like to learn more about Litecoin Cash please click here.
Crypto Market Stabilizes
The market is back in the green this past week. After more than a month of daily declines it seems that the market has gained its feet and is moving in the right direction again.
Bitcoin crossed the $10,000 mark on Thursday and has not looked back. This is a big psychological hurdle for the market. It should encourage those investors who were sitting on the sidelines (and rightfully so!) to jump back into the market.
One of the biggest gainers in the Top 50 is ZClassic which will be forking at the end of the month. Holders of both Bitcoin and ZClassic will receive Bitcoin Private. Bitcoin Private will try to use zkSNARKs to achieve completely anonymous transactions. Expect ZClassic to continue its climb.
To learn more about Bitcoin Private click here.