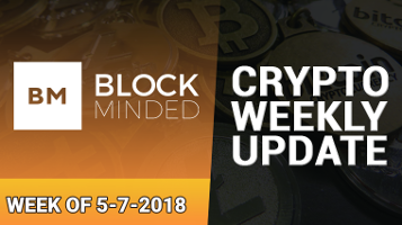 Welcome to the Crypto Weekly Update, where we organize all the cryptocurrency news from the previous week for your reading pleasure. The Crypto Weekly Update will be released every Monday afternoon. Think we can improve? Let us know in the comments section below!
Goldman Sachs Starts Trading Bitcoin Futures
The investment bank announced that it will begin trading Bitcoin futures contracts for it's customers. This decision has followed numerous requests by the bank's clients. Goldman executive Rana Yared said:
It resonates with us when a client says, 'I want to hold bitcoin or bitcoin futures because I think it is an alternate store of value.'
Goldman is one of the largest investment banks on the planet and they continue to get more involved in cryptocurrency and blockchain. This follows the recent takeover by Circle of Poloniex, a cryptocurrency exchange. Goldman Sachs is Circle's biggest backer.
However, this news does not mean that the investment bank will start investing in Bitcoin directly. It seems Goldman Sachs will be interested in doing this in the future. But they will only get more involved once clear regulation is released by the United States government. Like most money managers Goldman is proceeding with caution.
To learn more click here.
Berkeley Pairs Municipal Bonds With Blockchain
The city council of Berkeley, California has agreed upon a proposal that would utilize blockchain network technology to facilitate future municipal bond issuances. The proposal now is with the city manager for evaluation.
Leveraging blockchain network technology will allow the city to issue bonds that have smaller face values. Currently the city's "cheapest" bond has a face value of $5,000. This is too much for ordinary citizens. However, bonds issued on the blockchain could go for as little as $25 or $50. This could encourage citizens to invest in these bonds and support municipal projects that need funding.
The idea of introducing a municipal cryptocurrency has also been floated out. Naturally this idea has received negative feedback. Susan Wengraf is one such council member that has displayed skepticism as it concerns the use of a cryptocurrency. She stated:
I don't know much about it, but I know it's very unstable. The examples used by other communities successfully [issuing mini-bonds] was based on dollars – cash, not cryptocurrency. I would be very happy to support the first part of the proposal and more skeptical about cryptocurrency.
To learn more click here.
South Korea Looks To Roll Back ICO Ban
The South Korean government moved forward with an ICO ban last fall but are now looking to reverse it. A portion of the South Korean legislature is moving forward with introducing law that would allow Korean companies to raise capital via an ICO. Certain prerequisite conditions would need to be met.
The introduction of the ban last year did not have as big of an effect on the markets as originally thought. The ban was not harshly enforced and South Korean cryptocurrency investors were still able to participate in foreign ICOs. However, a reversal of the ban would be big news. South Korea is one of the largest cryptocurrency markets in the world.
It is also stunning that the South Korean government is doing an about-face so quickly after the initial ban. It's positive to see a large government admit when it has made a mistake. The previous ban might have introduced regulation that has gone too far. The cryptocurrency and blockchain space is moving so fast that whole governments and countries don't want to be left behind. This is a major driver of this change in sentiment in our opinion.
To learn more click here.