Welcome to the Bitcoin Crypto Profile – where we delve into our research on all things Bitcoin. New to cryptocurrencies? Access our Blockchain 101 material before you dive in!
If you would like to learn more about our scoring methodologies please click here.
Relevant Links
Profile Snapshot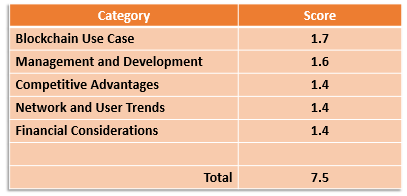 History of Coin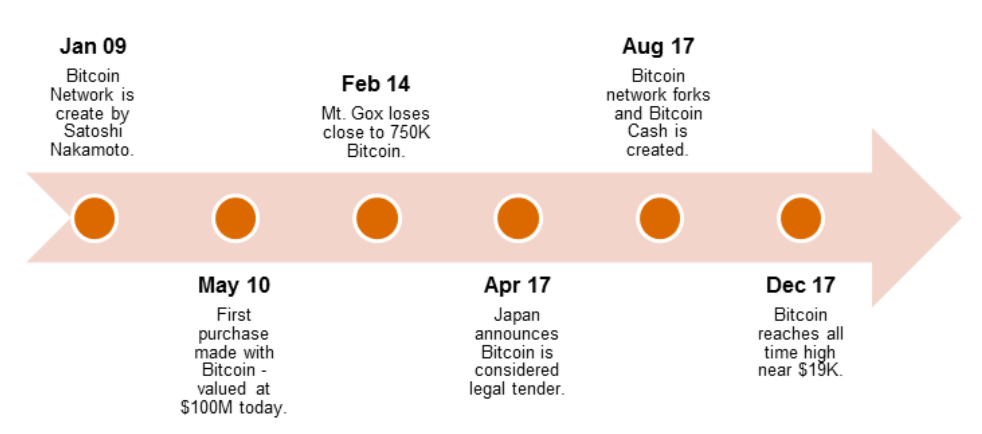 Blockchain Use Case (1.7)
Bitcoin is the first blockchain network ever. Bitcoin aims to be a peer-to-peer means of exchanging value that doesn't rely on intermediaries. The whitepaper written by Nakamoto explains that a decentralized ledger, encryption, and network consensus can create such a system. To learn more about blockchain click here.
It is not a coincidence that BTC was created shortly after the economic downturn of 2007 and 2008. The greed exhibited by those with large amounts of financial and political power put the economic health of the globe at risk. Bitcoin attempts to create a monetary system in which decisions are not made by people but by logic and mathematics.
Development and Management (1.6)
Development Team
Wladimir J. van der Laan is Lead Maintainer of the Bitcoin repository and has been since April 2014. He lives and works in the Netherlands. He first got involved in the Bitcoin Core project several years earlier. His first major project was to improve and reinvent the Bitcoin Core client user interface. Granted he's not the most professional looking guy.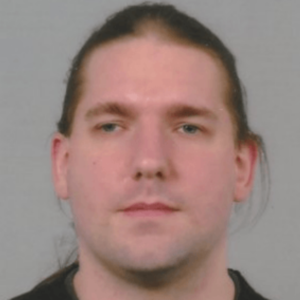 There are a large number of other development teams that work closely with Bitcoin Core to create solutions and improve the underlying technology. Bitcoin has a very active GitHub page and a wide number of developers contribute to the code.
Advisers and Other Influences
Bitcoin Core is largely funded by the MIT Media Lab's Digital Currency Initiative. The development was funded by the Bitcoin Foundation before its near bankruptcy in 2015. MIT stepped in and hired Bitcoin Core's main developers which kept the project alive.
Blockstream, a San Francisco based blockchain technology company is also a large financial contributor to the Bitcoin Core project. A large number of Bitcoin developers work at the company. Blockstream is currently working on an off-chain solution called the Lightning Network.
Competition and Risks (1.4)
Competitors
The following are Bitcoin's main competitors:
Dash

Monero
Competitive Advantages
These should be considered when determining the project's strengths:
BTC is one of the few cryptocurrencies that can be purchased using government backed fiat and is available in almost every country in the world.

BTC is the reserve currency of the crypto market. If you want to buy alt coins you will need BTC (or ETH) to acquire them.

New investors will feel more comfortable investing in Bitcoin because it is the most established cryptocurrency on the market.

This project receives a vastly larger amount of funding than most other cryptocurrencies and blockchain projects.
Risks
Risks can hint at a project's chances of ending in failure:
The organizational structure of the project is rigid as evidenced by the number of forks this year.

The project is relying on off chain solutions to solve transaction speed and transaction fee problems. This solution is based on unproven technologies and their implementation may fail.

BTC is only pseudo-anonymous. If consumers value privacy over other features then coins like ZCash and Monero can gain market share.
Network and User Trends (1.4)
Trends seen in network activity can help us understand if the project is gaining or losing momentum. To get a better understanding of what each trend may signal please click here.
Bitcoin transactions per day have increased steadily over the past year at 14.63%. However, transactions per day over the past 30 days have only increased by 1.75%. This may signal that the network is getting close to capacity and solutions will need to be uncovered.
As we can see from the chart below fees have increased, especially over the last several months. The Bitcoin development team will need to solve this problem or users might look for cheaper alternatives (which already exist).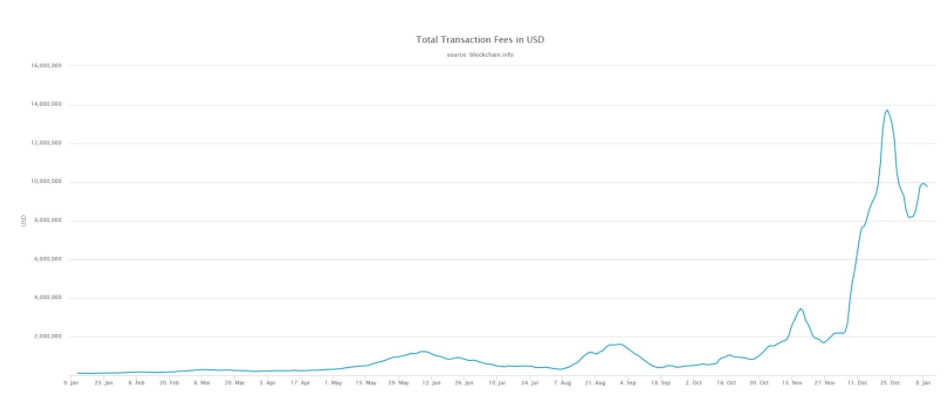 Hashrate increased by over 500% this year and close to 20% this month alone. This is a very healthy trend and signals confidence in BTC.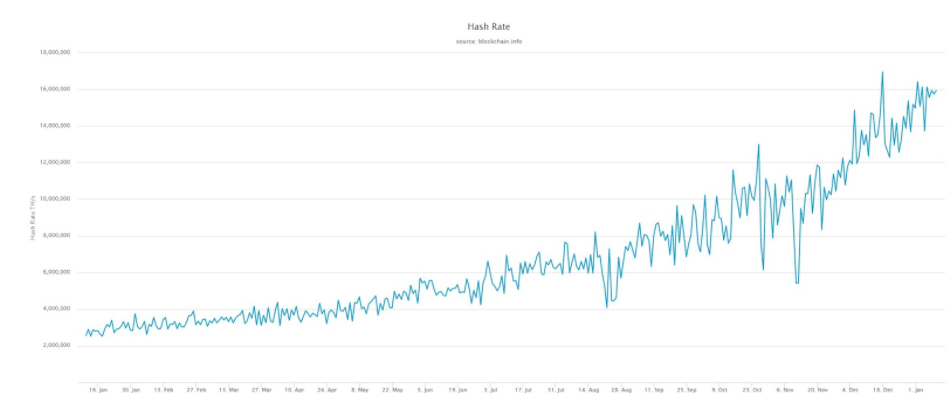 The amount of new addresses used on a given day increased year over year by 78.4%. That means that there are close to twice as many users as there were a year ago. Monthly increase stands at 18.6%.
Financial Considerations (1.4)
Financial considerations are important. We believe that Bitcoin is correctly valued at the moment.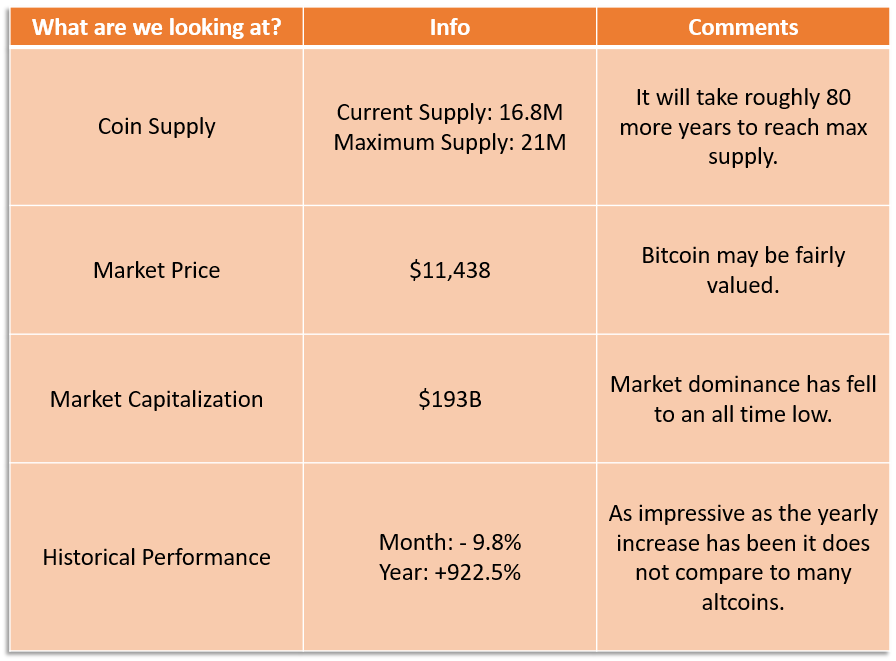 Conclusion
BTC is by far the most popular cryptocurrency in the world but weaknesses do exist. The way decision making power is distributed within the Bitcoin network gives the platform a lack of direction at times, which the multiple network forks this year clearly demonstrate.
Our analysis shows that the mining concentration is well distributed. However, that does not mean that the bigger mining groups lack influence. These miners have an enormous amount of power in directing the development of BTC. It would be difficult to push a protocol change that is likely to hurt the mining community. This amounts to a decentralized network in which the decision making power is semi-centralized and this could strangle innovation.
BTC's ability to be adaptable, both organizationally and technologically, may be limited. As the market matures and cryptocurrencies become easier for the average investor to obtain, first mover status and brand advantages could erode. Cryptocurrencies that are more technologically advanced and have greater organizational flexibility are likely to challenge Bitcoin.
Lastly, the current conflict with Bitcoin Cash should cause a bit of damage. At the center of the hostilities lies a very valid question: what is the best way to scale the network and make sure it can be used by the masses? Bitcoin Core is relying on off-chain solutions that have yet to be completely tested. It's reluctance to increase block sizes could potentially stunt the growth of the network. If a time comes when increasing the block size is the only option it will only further legitimize the Bitcoin Cash project.
Overall Score: 7.4